Quality management
"For us quality means, taking full responsibility!"
This begins with the purchase and supply of our raw materials. The raw materials used are predominantly sourced from our local region. The relationship with our long lasting suppliers is based on mutual confidence and consistent product quality. We only use untreated wood chips and saw dust, which is checked and analyzed with respect to the agreed product specifications.
The entire production process is structured to a stringent HACCP-concept. The defined work instructions, technical controls of the machinery and devices, and the packaging and storage of ingredients and ready manufactured goods, are constantly documented and controlled by the quality management.
The integrity of the quality standards is checked internally by the quality manager, and externally by the manufacturing standards organizations and local authorities. We are certified according to the quality management systems ISO 9001, QS, GMP+, PEFC and Kosher. We analyze all our raw material and finished products in our own laboratory according to a fixed plan. We also utilize external laboratories to secure the safety of the manufactured products.
Our employees undergo regular training in order to inform them about the latest news concerning developments and changes in the running processes, legal amendments, or new regulations in the quality management standards.
Each and every person on all levels of the organization are involved in offering good service and performance, bearing responsibility for their work and product safety. This philosophy plays a very important role in our company management.
---
Environmental consciousness & sustainability
"By acting with consideration with regard to resources, we secure the future of our children!"
Nature has given us a unique product which is sustainable. We can create a vast variety of new products with new features, securing the survival and continuity of our company for many years to come, but we will only succeed if we treat our resources with efficiency and respect. We produce the heat for drying of the raw materials with a wood chip heating system, and we have installed solar collectors as part of our DIN EN 50001 energy management system. The raw material originates mostly from sustainable forestry and is certified according to PEFC (comparable FSC).
Our procurement process: The purchase process for energy, goods and services follows strong rules for reaching the internal targets of the energy efficiency and environmental protection. All buying procedures are checked with respect to energy and environmentally relevant aspects in order to avoid unnecessary impacts for nature and environment.
A caring and efficient use of all resources is implemented firmly in our integrated management policy.
The products manufactured from our wood fibers and wood flours become part of the raw material circuit, and often gain a second life as they are being recycled.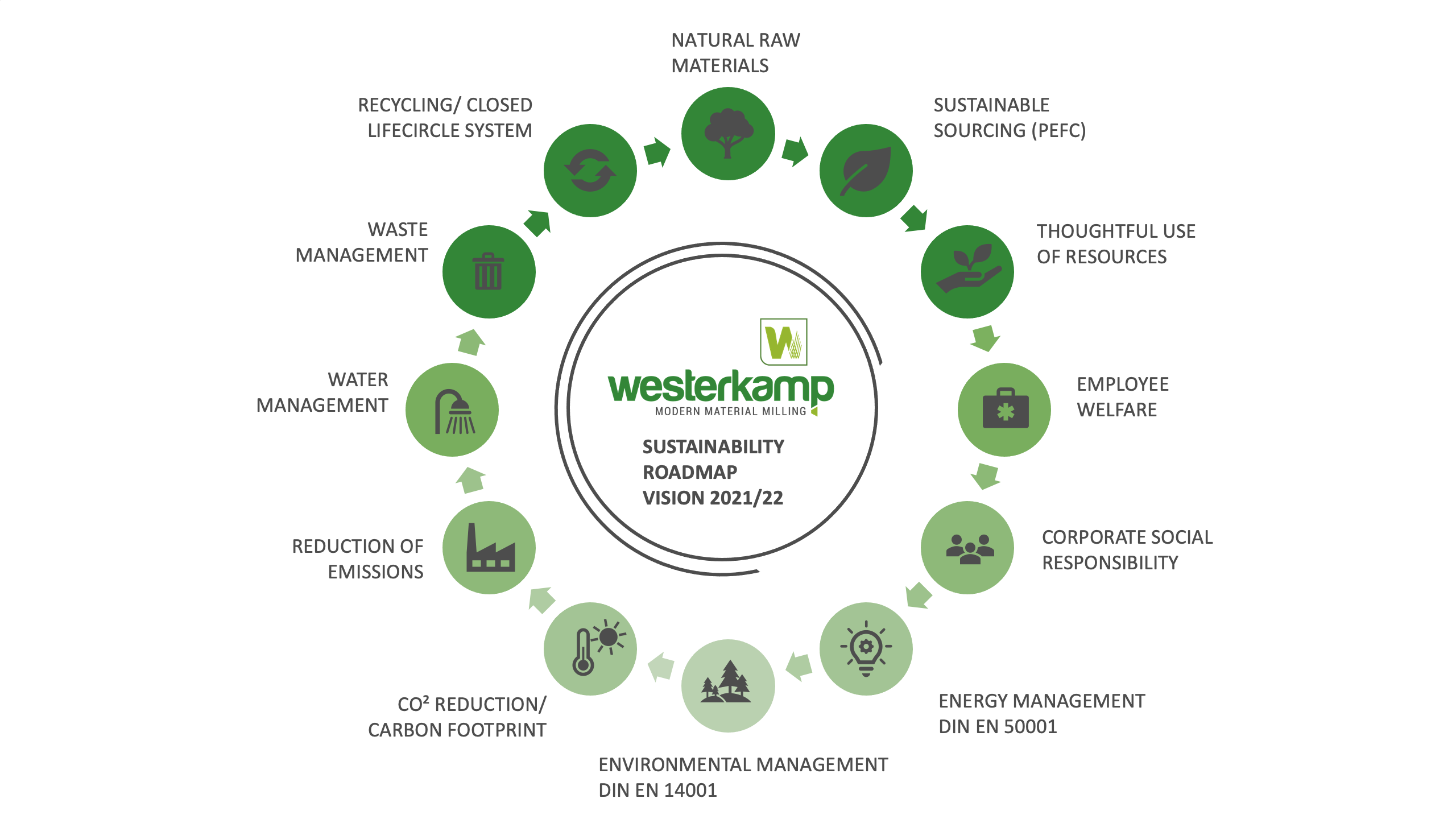 ---
Dena-flagship project - CO2-savings in the industry
Dena flagship projects show, how the reduction of greenhouse gases can work in practice and inspire others to follow their lead.
We as Holzmühle Westerkamp GmbH are a good example in the last few years because of the following projects we realised:
Purchase of a modern wood chips heating system
Purchase of an energy-efficient belt dryer
Use of waste heat from plants and machines
All details of these projects are explained in the following YouTube video of dena